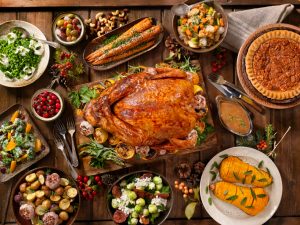 If you're a fan of food like we are (and really, who isn't?), then Thanksgiving just might be one of your favorite holidays. Not only do you get to spend time with the ones you love, but you can also eat all the foods you might not get to eat as often.
So how do you enjoy the same joys of Thanksgiving while wearing your braces? To help you navigate the serving tables at your Thanksgiving gatherings this year, we at Oyster Bay Orthodontics have a few tips for getting through all three courses.
Starters & Appetizers
Typically, while you're waiting for guests to arrive or dinner to start, appetizers are brought out to keep you satisfied until the entrees were ready. While many common appetizers may not be good to consume with braces on, there are still quite a few options still open to you. To make it even easier, we've created two short lists to follow:
Appetizer Do's: cheese chunks or slices, salami or pepperoni slices, soft dips with bread, meatballs or cocktail weenies in sauce.
Appetizer Don'ts: crunchy raw vegetables, chips, popcorn and nuts.